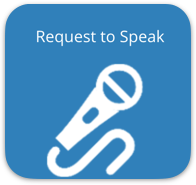 REQUEST TO ADDRESS GOVERNING BOARD
Under Comments from the Audience, the public may address the Board on any subject not listed on the agenda. An individual may only address the Board once under this item. Five (5) minutes may be allotted to each speaker but can be extended by a Board member, if so desired. The Board cannot act on non-agenda items and cannot respond to issues other than to provide general information or giving direction to the Superintendent to add to a future agenda or for the Superintendent to follow up with speaker. The individual shall state his/her name and address before addressing the Board.
If you wish to speak at a school board meeting, please submit a Public Participation Visitor Request (Call to Public) no later than 1 hour before the meeting. You must also register to attend the meeting by following the instructions HERE and must use option 2 on that page. Complete this form ONLY IF YOU WISH TO ADDRESS THE BOARD: Public Participation at Board Meetings Request of Visitors Form.