DSS STEM Summer Camp June 1st - 23rd 8:00 am - 12:30 pm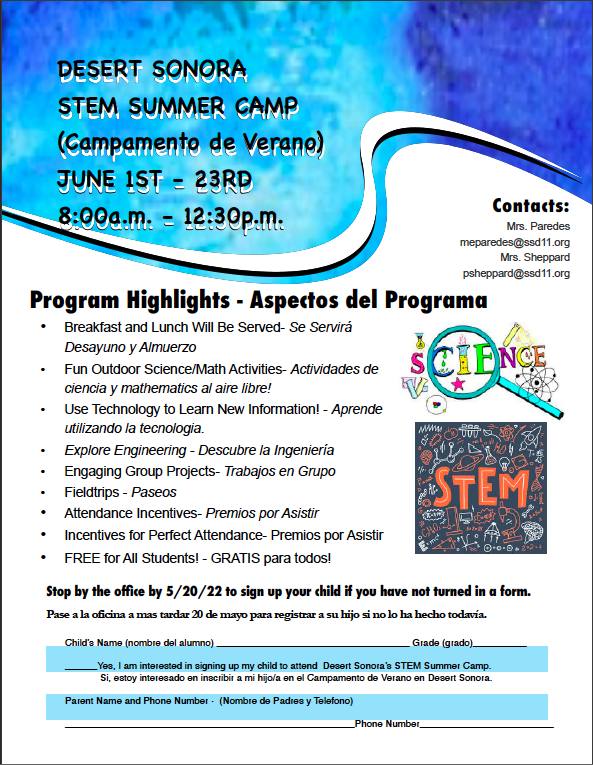 No school Friday, April 15, 2022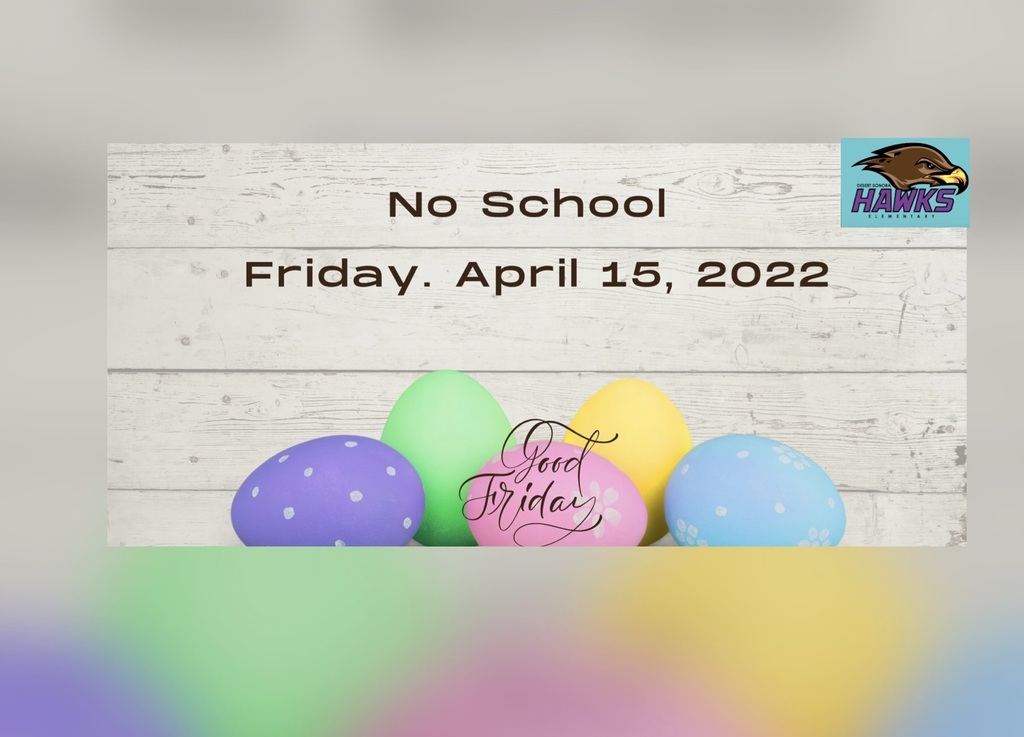 DSS Read Across America Spirit Week 2022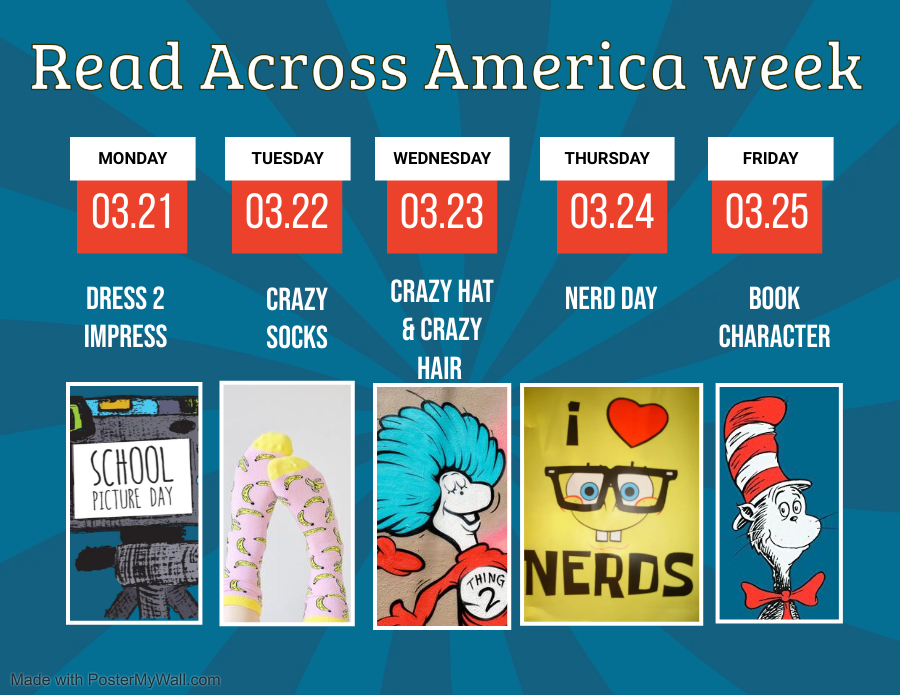 Kindergarten Enrollment is now open! Call (928) 341-6300 to make an appointment or to get information on how to register your child online. Student must be 5 years old on or before August 31, 2022 to enroll.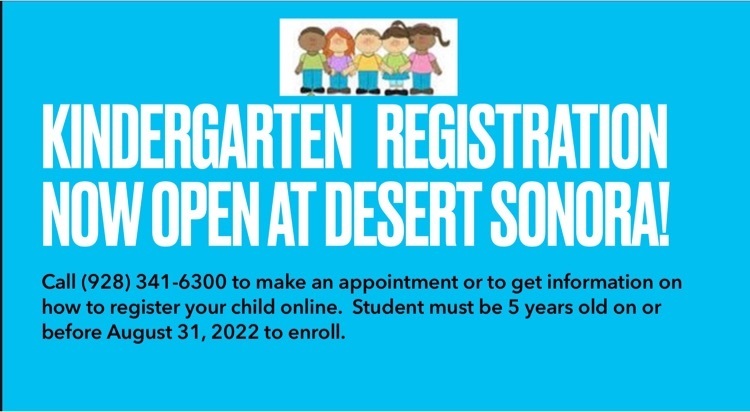 No classes Monday, January 16, 2022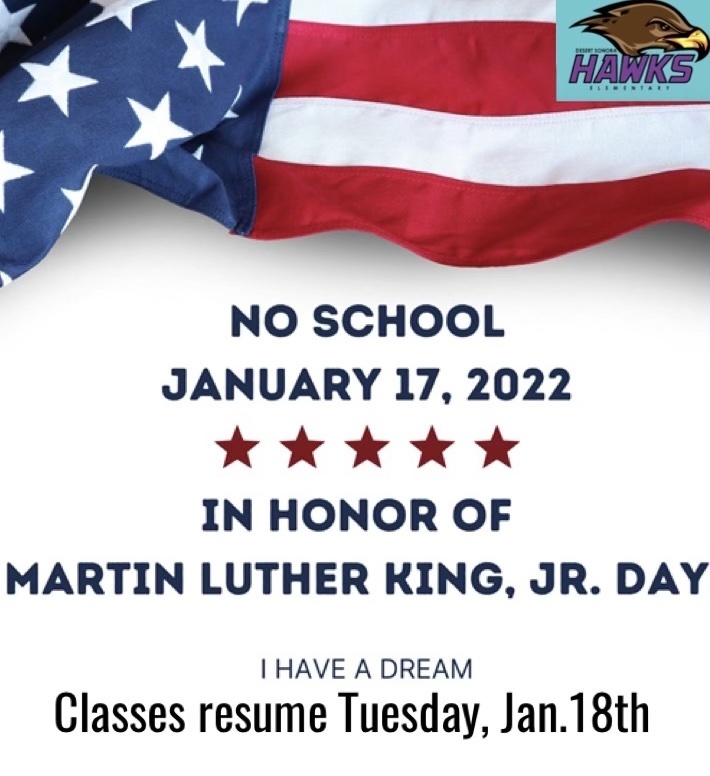 DSS Winter Posada on Wednesday, December 15, 2021 from 5:30 pm to 7:30 pm.
DSS Holiday Spirit Week from December 13 - 17, 2021. If your student(s) will not participate, they need to come to school in uniform.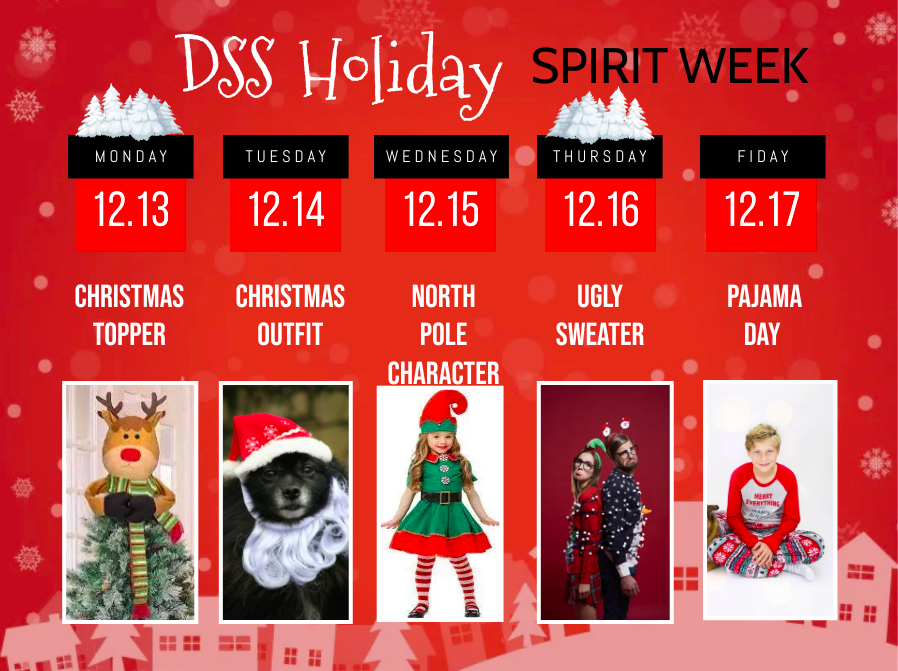 Galileo Testing Week December 13-17, 2021 at Desert Sonora Elementary School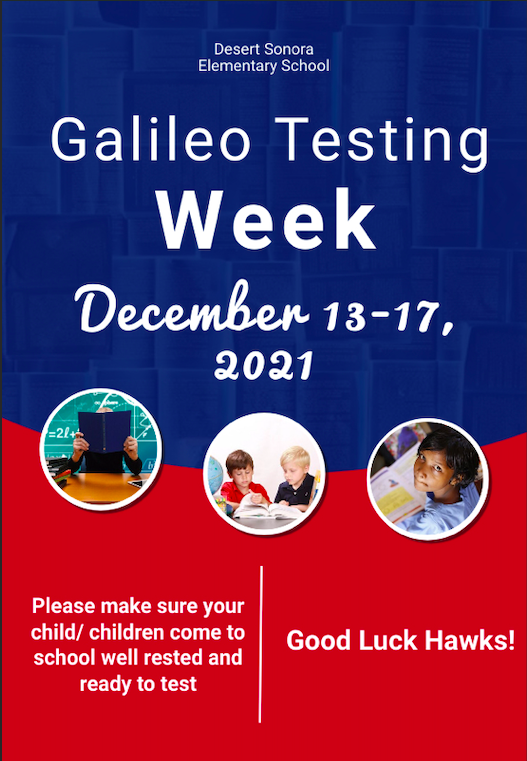 Thanks to all staff that donated food items for our Desert Sonora families! ❤️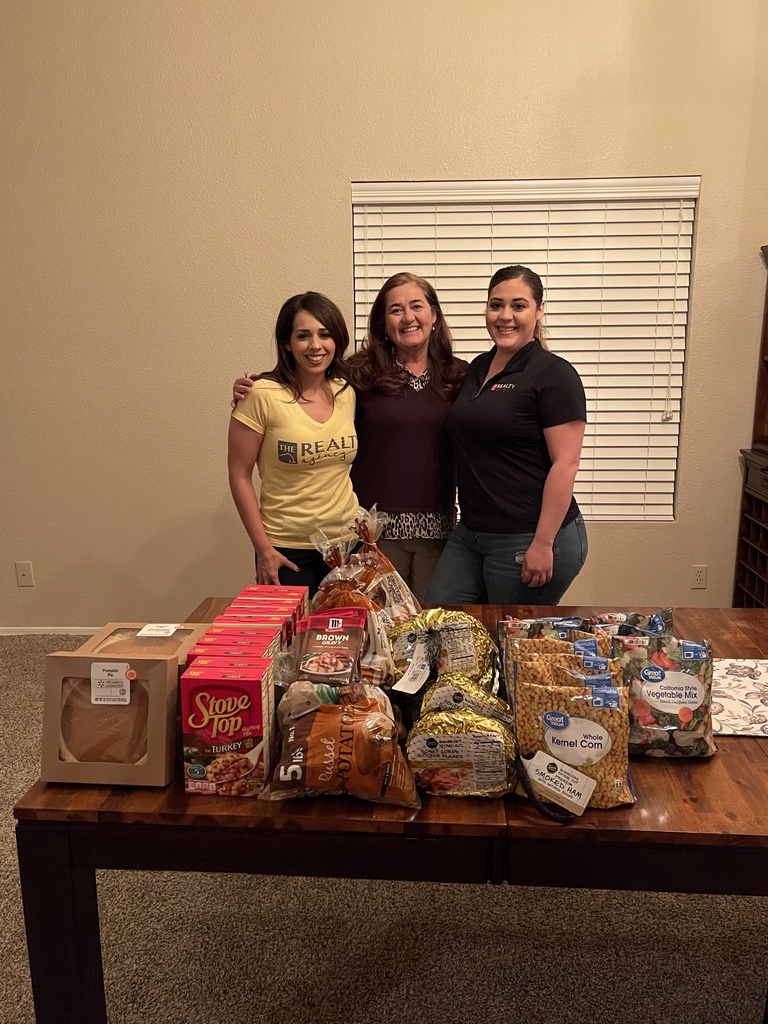 The Realty Agency, Team Paredes, contributing to our yearly Hams for Hawks drive. Thank you Nabile Paredes, Laura Lomelí, Melina Espíndola and Gaby DeLa Fuente for your generosity. You will make our DSS families very happy this Thanksgiving!!!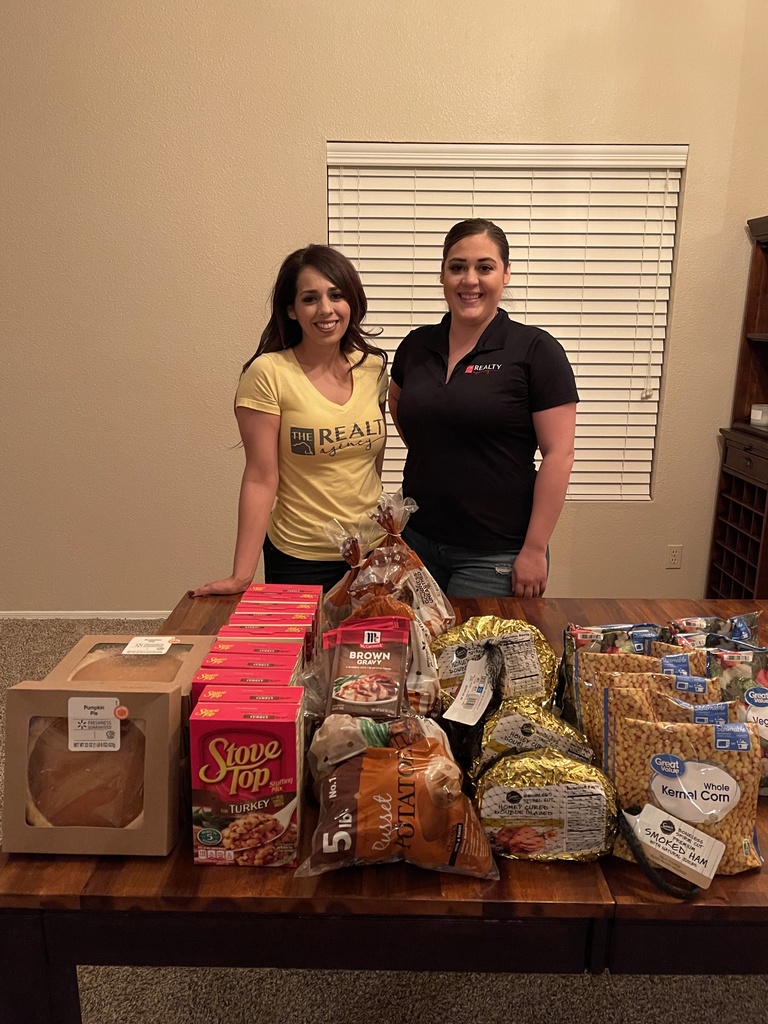 Next week November 8 - 12, 2021 will be half days all week. Parent Teacher Conferences November 09 - 10. Thursday, November 11, 2021 there will be no school (Veteran's Day.) La proxima semana del dia 8 al 12 de Noviembre del 2021 los estudiantes estaran saliendo temprano. Habra conferencias de padres y maestros el dia Martes 9 de Noviembre y Miercoles 10 de Noviembre. El dia Jueves 11 de Noviembre no habra clases en observancia del dia de Veteranos.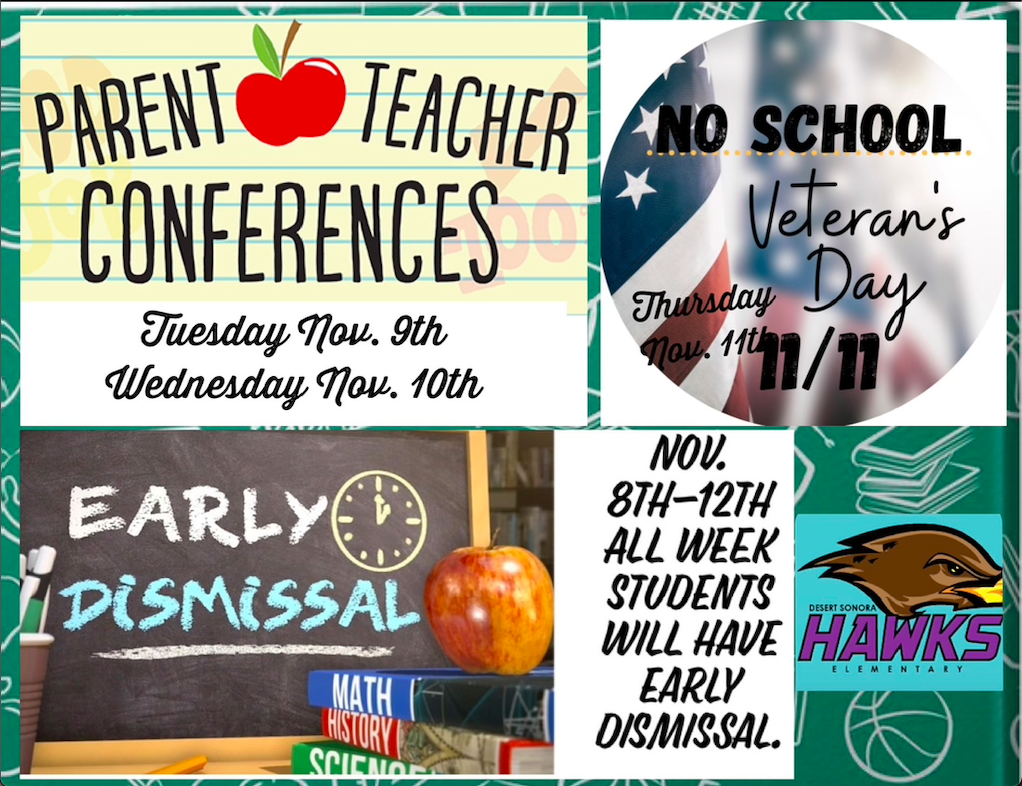 COVID-19 Vaccine is now available for children 5 - 11 years old. Sunset Health Clinic in both North Yuma and San Luis AZ will have a drive thru event. 1st dose will be November 13, 2021 and 2nd dose will be December 4, 2021. Please see flyer attached for times and locations.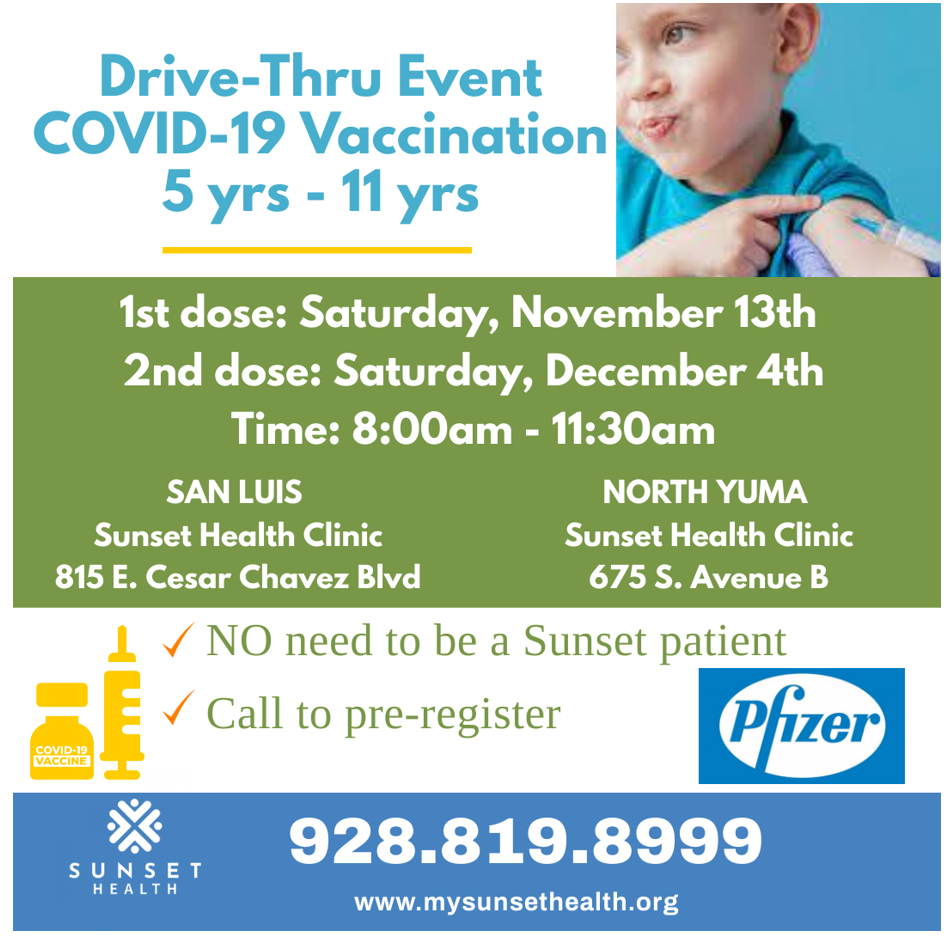 Desert Sonora's Open House will be held this Friday, July 30th, 2021 from 4 - 6 pm. Come and meet your child's teacher and visit their classroom. We will provide important information for dismissal and safety procedures. (For safety purposes, Parents will have access to the building during this evening event but we will be limiting access to Students Only during our school days, including the first day of school.) Thank you! Welcome back Hawks to the 2021-2022 School Year! See You Friday!

Welcome Back to School! The Somerton School District Governing Board decided that all Somerton Schools would make in-person learning available to all students starting on Monday, March 15, 2021. Remote learning is still available for the remainder of this school year for those families who opt to continue. Parents who wish to send their children to school must sign a couple of forms. Teachers will be scheduling a time for parents to come to school to sign the necessary paperwork. Students are encouraged to wear their school uniform or school shirts every day. We understand that some of our families are experiencing hardship at this time and we will be flexible with the uniform requirement for the last two months of school. Students who wear regular clothes to school must wear appropriate attire (e.g. no ripped jeans). School hours for students will be 8:00 – 1:45 on Monday, Tuesday, Thursday and Friday. Wednesday will be an early dismissal day and students will be dismissed at 12:00. Students and staff members will still need to wear masks and follow the Desert Sonora Mitigation Plan while on campus. We look forward to seeing most of our students back on campus on Monday, March 15!

The Somerton School District Governing Board determined at the January meeting to continue with Distance Learning because Arizona, Yuma County and Somerton are experiencing a High- Risk level of COVID-19 illness, exposure and transmission. We would like to know your opinion about returning to school in consideration of the "Risk Level". Please fill out the survey. La Mesa Directiva del Distrito Escolar de Somerton determinó en la reunión de enero de continuar con el aprendizaje a distancia por las razones de que Arizona, el condado de Yuma y Somerton están experimentando un nivel de alto riesgo de enfermedad, exposición y transmisión de COVID-19. Nos gustaría conocer su opinión sobre el regreso a la escuela en consideración al "Nivel de riesgo". Por favor de completar la encuesta.
https://www.surveymonkey.com/r/VQ72WKM

Galileo Testing Week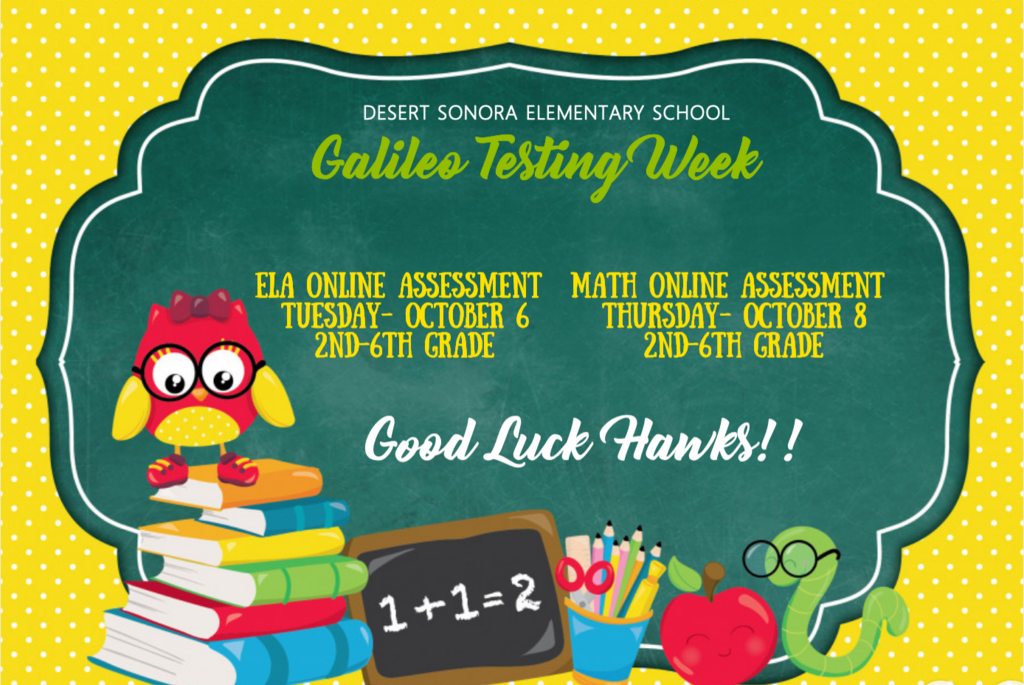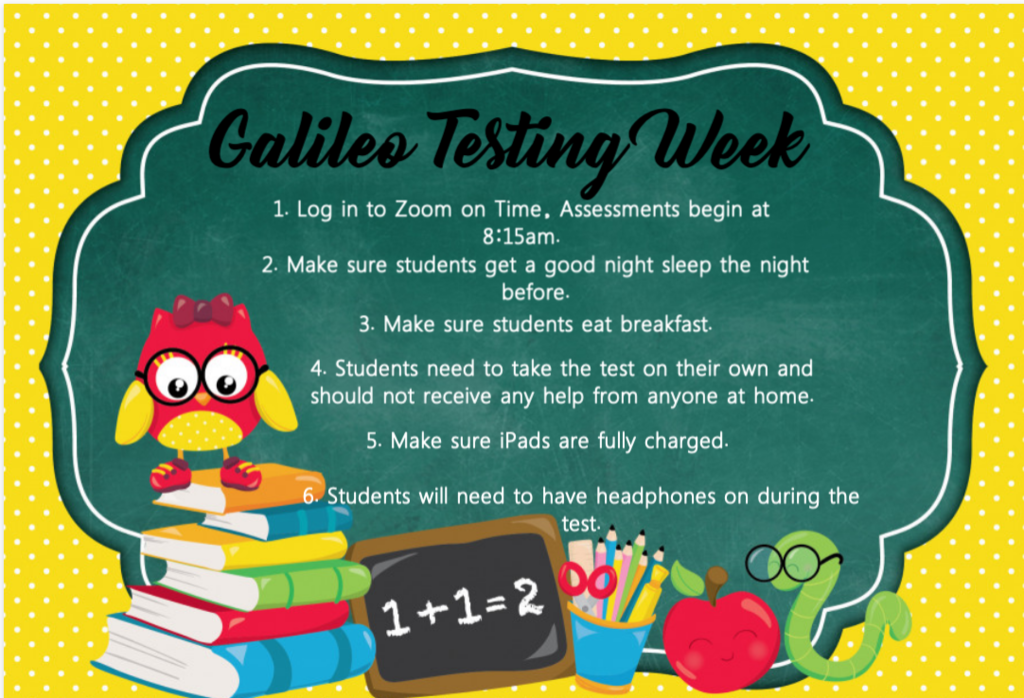 Estimados amigos y familias de Somerton: Anoche la Mesa Directiva Escolar de Somerton decidió permanecer en Aprendizaje a Distancia y volver a clases después de las vacaciones de invierno. Queremos esperarnos a volver a clases en persona hasta enero para así poder •asegurarnos que continúe la tendencia actual de las medidas de riesgo de COVID del Departamento de Servicios de Salud de Arizona •evitar interrupciones durante la temporada de gripe, así como evitar el riesgo de exposición durante la temporada de fiestas, como el Día de Acción de Gracias y Navidad. •y sobre todo para continuar con los logros que hemos conseguido en el aprendizaje y no interrumpir el sistema actual. Cada escuela ampliará los servicios de supervisión en la escuela según sea posible. Esperamos que en enero podamos volver a clases siguiendo los protocolos de la Fase 3 (evitando la fase híbrida por completo). Esto significa que todos los estudiantes deben regresar a su escuela donde tendremos medidas preventivas. Si está interesado en tener información sobre las diferentes fases, planes y medidas preventivas, usted puede leer el Plan de Reapertura de las escuelas de Somerton en nuestro sitio web ssd11.org Recientemente agregamos una versión en español. ¡Manténgase sano y salvo! Laura Noel, Ed.D. Superintendente Somerton School District #11

Dear Somerton Friends and Family, Last night the Somerton School Governing Board decided to plan to remain in Distance Learning until after Winter Break. We hope to •be sure the current Arizona Department of Health Services benchmark trend prevails •avoid disruption during flu season and risk of exposures over holidays with families •and most of all to continue the momentum we are gaining in learning by not disrupting the current system. Each school will expand supervision provision as able. We expect in January to be able to open using Phase 3 protocols (avoiding Hybrid altogether). This means all students will be encouraged to return to campus, but we will have preventative measures in place. If you are interested in the different phases, plans and preventative measures, you are welcome to review our Reopening Plans. They are on our ssd11.org website and recently added a Spanish version. Stay safe and healthy! Laura Noel, Ed.D. Superintendent Somerton School District #11

Parent Conferences this quarter will be held via phone or through Zoom. Your child's teacher will be contacting you to set up a time so that you can meet and review your child's participation and learning. This will provide an opportunity to assist and support you with our remote learning schedule and other valuable information regarding your child. Las conferencias de padres de este trimestre se llevarán a cabo por teléfono o por medio de Zoom. El maestro de su hijo se comunicará con usted para programar un horario para que pueda reunirse y revisar la participación y el aprendizaje de su hijo. Esto le dará la oportunidad de ayudarlo y apoyarlo con nuestro programa de aprendizaje virtual y otra información valiosa sobre su hijo. Monday, September 7 Labor Day (No School) Tuesday, September 8 Student Early Dismissal @ 12PM Wednesday, September 9 Parent Teacher Conferences/Student Early Dismissal @12PM Thursday, September 10 Parent Teacher Conferences/Student Early Dismissal @12PM Friday, September 11 Non-Student Day (No School)

Good Morning Parents/Guardian, Zoom is currently experiencing outage nationwide. Service has been restored for some users and they are continuing to fix the problem. Please be patient and continue trying to log in. Buenos Dias Padres / Tutores, Zoom está experimentando una interrupción en todo el país. El servicio se a restaurado para algunos usuarios y continúan solucionando el problema. Tenga paciencia y siga intentando ingresar a la sesión.