CONGRATULATIONS ROBOTICS TEAM!!!! Dear ELC Parents, I want to begin by congratulating Ms. Garcia, Ms. Baltazar, Ms. Olivas, and the entire Robotics Team for moving on to the State Competitions. On behalf of myself and the entire ELC staff, we are very proud of each of our Robotics Team members. Good luck at the State Competitions on March 20th. Sincerely, Mr. Munoz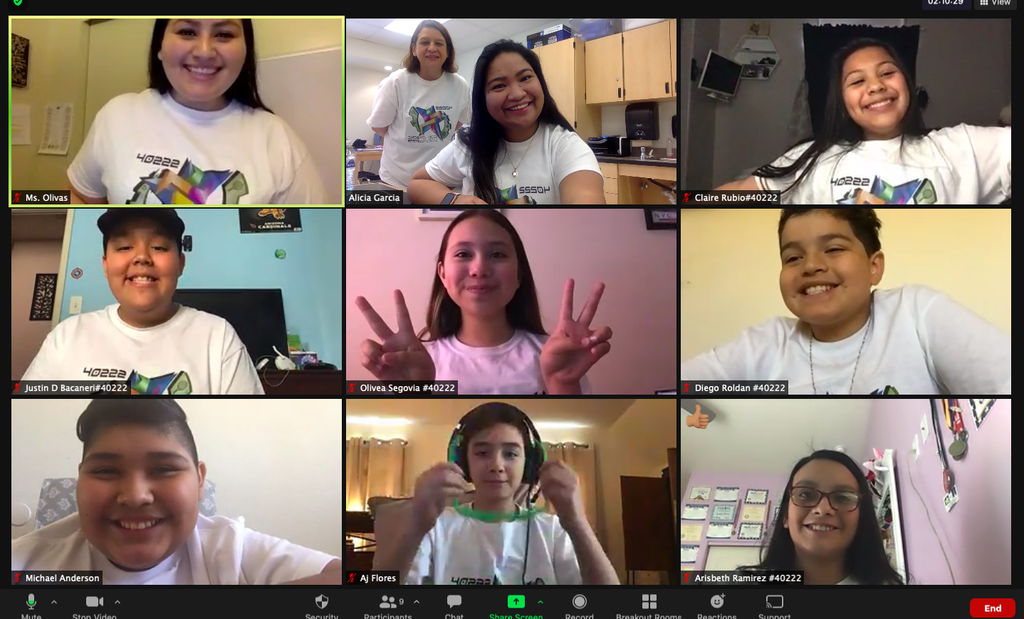 Parents, ELC will be having its "FALL BREAK" next weeks. There will be no school from October 12th through October 16th. Have a great and restful Fall Break! See you online and through distance learning on October 19th! Mr. Munoz
Parents, Internet and phone lines are down throughout our entire district. Thank you for your patience as our district tech team works hard to reestablish connection. Mr. Munoz
ELC Parents, Tomorrow Wednesday, at 6:00 PM, we will be having our Pre-recorded PTO Title 1 meeting and August STARS celebration. In this meeting, you will be hearing about our Title 1 and Migrant Programs. In addition, you will be electing our PTO Officers for our 2010-2021 school year. You will also be reviewing, discussing, and approving our PI (Parent Involvement Policy) and our School Compact for the 2020-2021 school year. Please contact me if you have any questions Sincerely, Mr. Munoz
A Message From Mr. Munoz: Good morning ELC parents, I hope that you are having a wonderful summer while staying safe at all times. I wanted to give you some information regarding our school's opening. ELC will be starting school through Distance Learning beginning August 3rd. Distance learning means that your child will be learning from home. Since ELC and our entire district will be Distance Learning, then I would strongly recommend that you do not go out and purchase any school uniforms at this time. ELC will begin distributing IPads to every students the week of July 27th. We will be having a IPad drive thru by grade level. The front office will be calling you with more information regarding the time and grade level. If you have more than one child at school, then you can pick up all of the IPads at the same time. Please keep in mind that our school office is closed to the public but we are taking appointments for preschool, kinder and grades 1st through 6th registration. Thank you and have a great day! Mr. Munoz
El distrito escolar de Somerton Incluyendo ELC estará ofreciendo desayuno de las 7:00 a las 10:00 y lonche de las 11:00 a la 1:00 PM. a todos los estudiantes y padres. Por favor entre del lado de la cafeteria porque la escuela estará cerrada para cualquier otro negocio. Gracias, Mr. Munoz
The Somerton School District Schools including ELC will be providing breakfast from 7:00 AM to 10:00 AM and lunch from 11:00 AM to 1:00 PM for students and parents. Please enter through the Cafeteria side because the school will be closed for regular business. Thank you, Mr. Munoz
Padres, El gobernador annuncio que todas las escuelas estarán cerradas desde Marzo 16th hasta Marzo 27th incluyendo ELC. Por favor no mande a su hijo / hija a la escuela. La oficina de ELC estará también cerrada. Gracias, Mr. Munoz
Dear Parents, Governor Ducey and Superintendent of Public Instructions just announced the closure of all of Arizona's schools. Our Superintendent, Dr. Laura Noel, just confirmed this news. Effective tomorrow, March 16th, through March 27th, all Arizona Schools including ELC Will be closed. Please do not sent your child to school tomorrow. ELC office will be closed as well from March 16th through March 27th. Thank you, Mr. Munoz
Please mark your calendar for our Preschool Winter Program this coming Tuesday at 10:00 AM. Our Kinder and 1st grade Winter Program starts at 5:30 PM. this coming Tuesday as well. Our PK-1st Grades Posada starts right after our Kinder and 1st Grade Winter Program.
Our PTO meeting scheduled for today, September 25th, has been cancelled due to a severe weather report alert! Sincerely, Mr. Munoz
Friendly reminder that due to parent teacher conferences student dismissal today is at 12:00pm. Preschool will follow regular schedule. Recordatorio;debido a las conferences de padres, estudiantes saldran a las 12:00pm. Pre escolar segira su horario regular. Thank you!/Gracias!
This is a friendly reminder that today we are following our early release schedule. Students will be dismissed at 12:00pm. Thank you! Buenos Dias, un recordatorio que hoy tendremos salida temprana para los estudiantes. Estudiantes saldran de clase a las 12 de media dia.Gracias!
ELC Open House is Monday, August 5th from 4:00-6:00pm.See you then! ELC Open House sera el lunes, 5 de agosto de 4:00-6:00pm. Los esperamos!
Parents/Guardians, This is a friendly reminder that due to parent teacher conferences students will have early dismissal today.Thank you! Este recordatorio es para avisar que hoy los estudiantes saldrán temprano debido a conferencias de padres y maestros. Gracias!