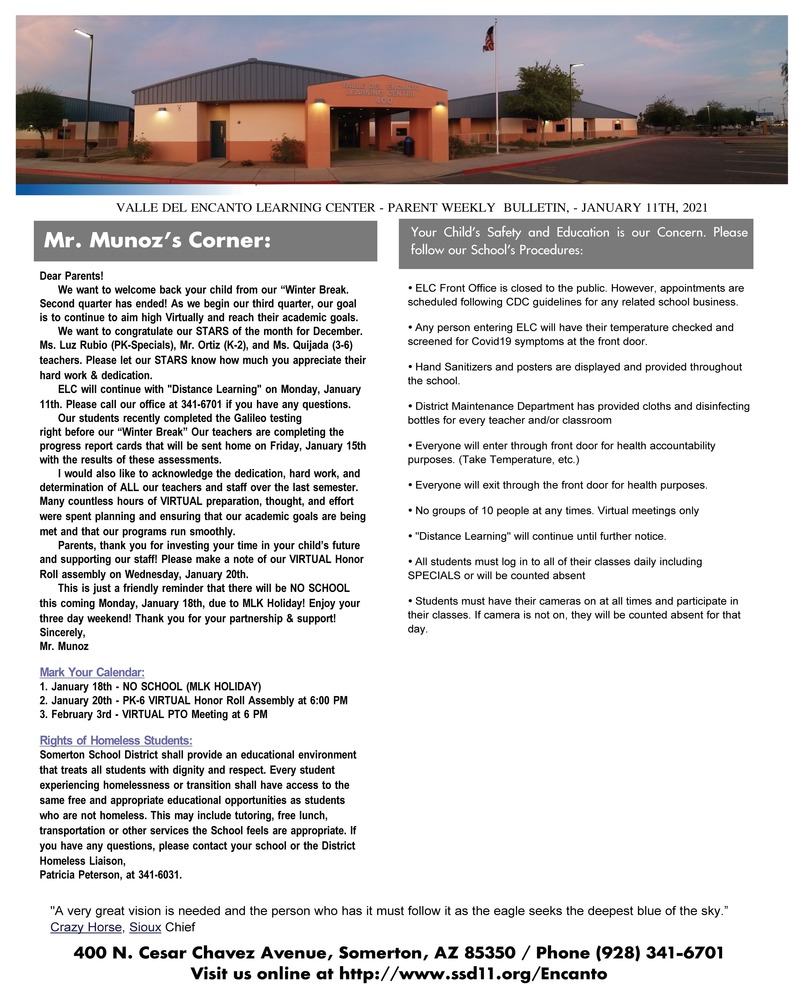 January 11th Parent Weekly Bulletin
Luciano Munoz
Sunday, January 10, 2021
Dear Parents!
We want to welcome back your child from our "Winter Break. Second quarter has ended! As we begin our third quarter, our goal is to continue to aim high Virtually and reach their academic goals.
We want to congratulate our STARS of the month for December. Ms. Luz Rubio (PK-Specials), Mr. Ortiz (K-2), and Ms. Quijada (3-6) teachers. Please let our STARS know how much you appreciate their hard work & dedication.
ELC will continue with "Distance Learning" on Monday, January 11th. Please call our office at 341-6701 if you have any questions.
Our students recently completed the Galileo testing right before our "Winter Break" Our teachers are completing the progress report cards that will be sent home on Friday, January 15th with the results of these assessments.
I would also like to acknowledge the dedication, hard work, and determination of ALL our teachers and staff over the last semester. Many countless hours of VIRTUAL preparation, thought, and effort were spent planning and ensuring that our academic goals are being met and that our programs run smoothly.
Parents, thank you for investing your time in your child's future and supporting our staff! Please make a note of our VIRTUAL Honor Roll assembly on Wednesday, January 20th.
This is just a friendly reminder that there will be NO SCHOOL this coming Monday, January 18th, due to MLK Holiday! Enjoy your three day weekend! Thank you for your partnership & support!
Sincerely,
Mr. Munoz