SMS Remote Learning Schedule
Katherine Zielinski
Monday, August 10, 2020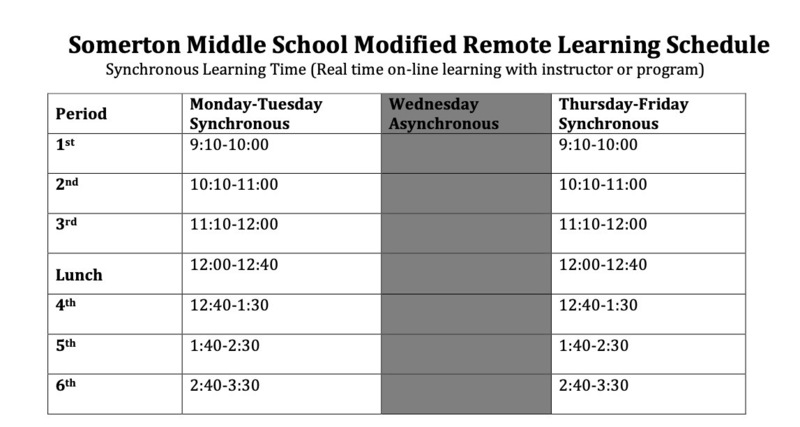 Reminder:
***Students will have two 2.5 hours of synchronous learning with two 10 minute breaks in between and a 70 minute lunch on Monday, Tuesday, Thursday, and Friday.
***Students will have 5 hours of asynchronous learning on Wednesday (i.g. reading/math homework and Success maker).
ELA/Math Homework
Students will only get homework in Math and ELA that will not exceed 60 minutes per subject per week.
Success-maker for Math and Reading
Daily 30 minutes reading and 30 minutes math. Total weekly minutes 300.
Teacher Expectations:
AA teachers will monitor student success and set up parent/student meetings when necessary on Wednesdays.

All teachers will take attendance on PowerSchool for synchronous learning in each period.

All teachers will have virtual office hours on Wednesday.

All teachers will have content planning meetings with coaches weekly.

Teachers are encouraged to report to school from 8:45-4:00.

Student Expectations:

• Students will log onto virtual classrooms daily except Wednesday. • Students need to complete 30 minutes of math and 30 minutes of reading in Success-maker daily.

• Students will check in with AA teacher weekly by phone conference or email.

Parent Expectations:

Monitor student log in classes daily.

Set daily expectations and times for HW and Success-maker.

Communicate with AA teacher and content area teachers as needed to address any concerns.