EDIT MAIN
School Closure Frequently Asked Questions (FAQ)
Check this page often for updates
---
Q: Will school be closed?
A: Yes, all Somerton Schools will remain closed on Thursday May 3rd, 2018.
---
Q: When will school be re-opened?
A: ALL SOMERTON SCHOOLS WILL RESUME ON FRIDAY, MAY 4TH, 2018
---
Q: How will I be notified?
A: By text message, email, voice (phone), Facebook and updates to the website (ssd11.org). Also by notifications through our mobile app that you can download from the lower right hand corner of this page. Please make sure your contact information is correct by calling your school secretary.
---
Q: Will my child be marked absent?
A: NO, attendance will not be taken during the closure.
---
Q: What are options for childcare & Food?
A: Some childcare options are listed here: Childcare Options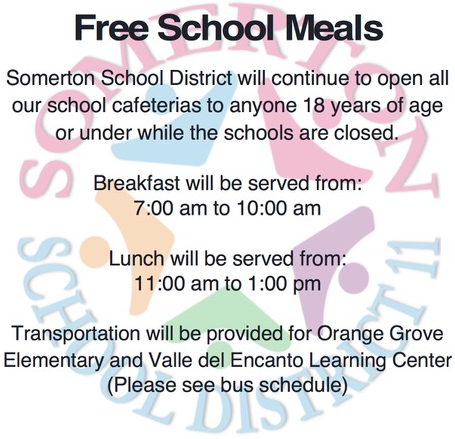 ---
Q: What if I am an employee of the district?
A: The school closure does not effect 52-week employees, administration, classified staff like school secretaries contracted through mid June. They report to work as usual. Transportation, food service and maintenance custodial staff who work school days will need to consult with their supervisor for specific information regarding the impact to these departments. If you will not be coming to work, you still need to follow attendance procedures at your school documenting your absence.
---
Letter from Superintendent